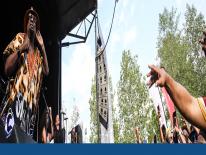 First established in 1968, the DC Commission on the Arts and Humanities (CAH) is an independent agency in the District of Columbia government that evaluates and initiates action on matters relating to the arts and humanities and encourages programs and the development of programs that promote progress in the arts and humanities.

CAH is the designated state arts agency for the District of Columbia and is supported primarily through District government funds and in part by the National Endowment for the Arts.
Mission
Our mission is to provide grant funds, programs and educational activities that encourage diverse artistic expressions and learning opportunities, so that all District of Columbia residents and visitors can experience the rich culture of our city.
Vision
As the Nation's Capital, the District of Columbia is a world-class cultural destination. The DC Commission on the Arts and Humanities (CAH) will be the leading voice for arts and culture in the city, thereby elevating the impact of the arts and humanities locally, nationally and internationally.
Recognizing the changing dynamics within the city, the DC Commission on the Arts and Humanities is poised to increase our depth and expand our breadth of creative opportunities for residents and visitors.
Programs
CAH is governed by a volunteer board of Commissioners who are appointed by the Mayor and approved by the City Council. We provide financial support and conduct programming in three primary focus areas:
DC Creates Public Art
The purpose of the DC Creates! Public Art Program is to provide high quality art installations and administrative support services to the public so they can benefit from an enhanced visual environment.
Arts Learning and Outreach
The purpose of the Arts Learning and Outreach Program is to provide grants, educational activities and outreach services for youth, young adults and the general public so they can gain a deeper appreciation for the arts and enhance the overall quality of their lives.
Arts Building Communities (Grants and Programs)
The purpose of the Arts Building Communities program is to provide grants, performances, exhibitions and other services to individual artists, arts organizations and neighborhood/community groups so they can express, experience and have access to the rich cultural diversity of the District. Grants are based on funding availability and advisory panel recommendations.