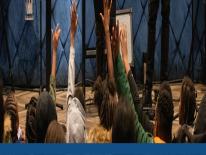 The advancement of arts education programming for the city's children and youth is one of CAH's top priorities. CAH provides grants, educational activities, and outreach services for youth, teaching artists, classroom educators, and arts administrators across the city. More information about the agency's current arts education grant programs are below
Arts and Humanities Education Project
The Arts or Humanities Education Project (AHEP) offers support to qualified nonprofit organizations. These organizations are in the arts, humanities, arts education, and service sectors. The grant supports delivering exemplary programs in arts and/or humanities education. These programs target students in grades pre-K to 12 and older adults ages 50 and up. Eligible programs can also assist teachers, educational staff, and teaching artists of Public Schools and Public Charter Schools in DC.
Learn more about our Arts and Humanities Education Project program
Field Trip Experiences
This grant program supports various field trip elements. These elements can include the cost of field trip tickets. Additionally, they could cover professional development opportunities for classroom educators. They could also include pre/post-field trip workshops for students. Funding may also be allocated to needed personnel support for the planning and implementation of the program.