March 26 - 27, 2018 | 5:30 PM - 8:00 PM EDT
Washington Metro Area Transit Authority (WMATA)
600 5th St, NW, Washington, DC 20001
(click here to learn more)
Image: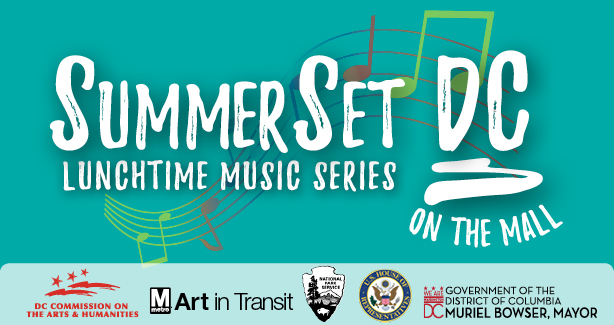 Featured Content Items:
Call for 2018 SummerSet DC Auditions
Monday, March 26th and Tuesday, March 27th 2018
5:30 PM - 8:00 PM EDT
Washington Metro Area Transit Authority (WMATA)
600 5th St, NW, Washington, DC 20001
SummerSet DC is a lunchtime music series presented on the National Mall by the DC Commission on the Arts and Humanities (CAH) and the Washington Metro Area Transit Authority (WMATA), in cooperation with the Office of Congresswoman Eleanor Holmes Norton and the National Park Service (NPS). The series brings free musical performances by area musicians to the National Mall each Tuesday and Thursday from 12:00PM – 2:00PM. SummerSet DC provides a unique opportunity to showcase our region's variety of musical talent.
Auditioning for SummerSet DC
In –person audition registration will begin at 5:30PM at the Washington Metro Transit Authority Headquarters. Auditions will take place from 6:00PM – 8:00PM. Performers should plan to spend 30 minutes to one hour at the auditions. To speed the process for all, applicants are requested to complete and print out the Application Form prior to the audition date, which may be found below. Please ensure that the application is legibly written or typed.
Audition Guidelines
• Applicants will audition with a (2), two-minute musical presentation, which should include at least one up-tempo musical selection. Applicants are afforded a total of (5) five minutes to set-up and audition.
• Applicants will audition before a review panel.
• Applicants must bring to the audition the required documents listed in the "What to Bring to the Audition" section of this notice.
Selection Notification
Applicants will be notified of selections via email by Friday, April 6, 2018. Please note that there are only 16 performance slots available. If selected, performance dates are on a first come first served bases. We encourage applicants to stay vigilant when checking their email. Additionally, following the full execution of an agreement to perform, musicians are welcome to begin sharing this news and inviting friends and family to attend the event.
Selected participants will receive an honorarium of $400.00 for participation.
For complete details on the audition process and event, please download the full audition notice and application found below.
You may also contact Events Manager Ebony C. Brown at [email protected] or Events Associate JaKenna E. Martin [email protected] or (202) 724-5613. Office hours are Monday – Friday 9:00am – 5:30pm EST.