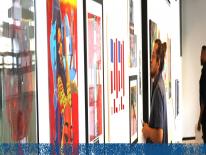 Throughout the year, CAH curates exhibitions through the Art Exhibition Grant and also its own exhibitions. These exhibitions are either mounted within the 200 I (Eye) Street Galleries or can be viewed through its virtual platform.
CAH GALLERY EXHIBITIONS
Upcoming Exhibition TBA
For more information, please contact Sarah Gordon at [email protected]
______________
Top Banner: Exhibition SYNERGY, FY20 AHFP Visual Arts Applicants, curated by CAH, 2019.