THROUGH OUR EYES
AUGUST 28 – OCTOBER 9, 2020
Funded by an Art Exhibitions Grant from the DC Commission on the Arts and Humanities. A virtual platform is being used as an alternative to the brick and mortar gallery space as a response to the social and logistical limitations resulting from Covid-19. Please visit https://www.throughoureyesexhibition.com/
"Through Our Eyes highlights the point of view of minority artists who create complex and unconventional work exploring their unique experiences, narratives, and perspectives on the world. These artists deal directly and powerfully with issues around Black identity in America today, including the adaptation of African culture to African American life, the cultural significance of hair and jewelry, the history of the Civil Rights movement, and the current challenges of Covid-19. Through painting, drawing, photography, sculpture, and film these artists explore and showcase different perspectives of their unique point of view on the world through their eyes."
– Emmanuel Massillon, Curator
Artists: Kalila Abdur-Razzaq, Anthony O. Akinbola, Julian Alexander, Maya Beverly, Jermaine "Jet" Carter, Darin Cooper, Ryan Cosbert, Kenyssa Evans, Lloyd Foster, Monique Muse, Ismael Qedar Oates, Samera Paz, Gala Prudent, Sydney Vernon.
Zoom Artist Talks
12:00 – 1:30 pm
Friday, August 28 | Through Our Eyes: opening event with exhibiting artists CANCELLED
Thursday, September 3 | Conversation with artist Lloyd Foster (Register)
Thursday, September 10 | Conversation with artist Ryan Cosbert (Register)
Thursday, September 17 | Conversation with artist Sydney Vernon (Register)
Thursday, September 24 | Through Our Eyes: Closing Curator Talk (Register)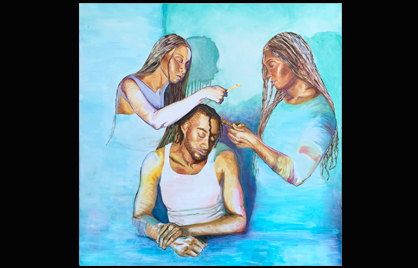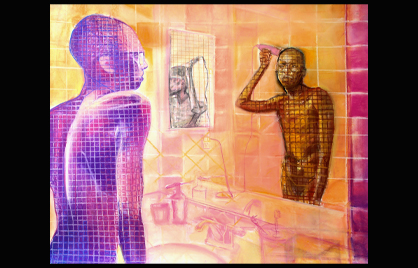 Images from top:
Jermaine Carter, Rhonda Our Last Hope, 2019, Mixed media on canvas, 175 x 90 in.
Julian Alexander, Mask Up, June 2020, Graphite on bristol board, 11 X 14 in.
Kalila Abdur-Razzaq, Baby Cousin, 2019, Oil and yarn on canvas, 48 x 56 in.
Ryan Cosbert, Chronic Soul, 2020, Enamel, black-eyed peas, yams, watermelon, and gel medium on canvas, 60 x 46 in.
Sydney Vernon, Sunset Quarantine Haircut, 2020, Pastel on paper, 35 x 40 in.