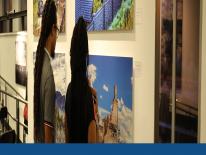 Art Exhibition Grant
This competitive grant program provides support for the development and public presentation of visual art exhibitions by District resident curators. The program does this through grant support and use of CAH's exhibition spaces. Exhibition space is both within the building lobby 200 I (Eye) Street Galleries and on CAH's virtual platform. If the gallery is unavailable, the exhibitions will be installed on the on-line platform only. Applicants must be individuals with prior curatorial experience.
The goals are to:
Provide the opportunity for District resident curators to develop innovative and educational art exhibitions for presentation in a government facility.
Provide unique exhibitions and related programs for District residents.
Click here for grant guidelines.
Current Exhibitions:
Past Exhibitions:
______________
Top Banner: Exhibition Lay of the Land, curated by Jarvis Grant, 2019.