Wednesday, November 1, 2023
Hello all!
For those I haven't had the chance to introduce myself to yet, my name is Michelle May-Curry, and I am the Curator at DC Commission on Arts and Humanities. I joined CAH in August, and it's been an incredibly exciting season jumping into the work of managing our Art Bank Program and our upcoming Juried Exhibition Grant celebrating 60 years of the Civil Rights Act of 1964.
I'm an arts and culture kid at heart. I was born and raised in the arts district of Cleveland, Ohio and am the daughter of a musician and social worker. I moved to DC two years ago with the hope of cultivating a life at the intersection of the arts and social impact. Landing at CAH was perfect timing for me, but the journey to get here has been winding and eclectic!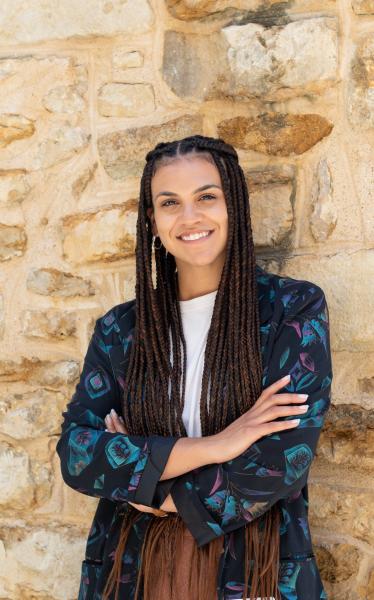 After getting my undergraduate degree at Williams College, I pursued a Ph.D. in American Culture from the University of Michigan in Ann Arbor, where I wrote a dissertation on black and mixed-race family photography in the 20th and 21st centuries, looking at women and mothers as curators of family images. But I never liked writing alone! I quickly joined curatorial projects and took on writing contracts in galleries and museums related to my research. Through those projects I have held fellowships at Harvard University as well as the Carr Center in Detroit, working with Carrie Mae Weems on two exhibitions in Detroit and in Havana Cuba for the 2019 Havana Biennale. My scholarly and interpretation work has also appeared in the New York Times, American Quarterly, Tiya Miles' All That She Carried (2021 National Book Award for non-fiction), The Black Aesthetic Season III, and exhibitions at The Art Institute of Chicago, and Harvard Art Museums.
But for me, the boundaries between public art and public humanities have always been porous! While finishing my Ph.D. I joined the National Humanities Alliance from 2020-2023 and served as Project Director of Humanities for All, a Mellon Foundation funded initiative that helped public humanities students, faculty, department chairs, and deans at colleges and universities build better public humanities projects. Through the Humanities for All website, I got to tell stories about amazing public humanities work happening across the country and as a result, I got a bird's eye view of the public humanities. I also co-edited a book, The Routledge Companion to Public Humanities Scholarship (pub date in April 2024!), which gathers the current aims and scope of public humanities scholarship in U.S. higher education. As a result of this work, I teach a couple of classes at Georgetown University in their MA program in Engaged and Public Humanities. Now in its third year, the program has helped students find careers all over D.C.'s arts and culture landscape – the Theater Lab, The Aspen Institute, the NEH, and even the White House!
As you might imagine given my background, curating CAH's gallery is a glass slipper type fit for me, with the work sitting right at the intersection of the arts and public engagement. I am especially full of ideas for ways to bring the humanities into our gallery through programming and partnerships and know that I'm surrounded by people who share that goal.
I hope to meet everyone I haven't met soon and develop great working relationships with you all. Feel free to reach out to me about any of the grants in my portfolio, metropolitan artists whose work should be on my radar, or talk about our shared hobbies (film photography! Swimming! Tarot! Reading books and people-watching in Malcolm X Park! A deep love of the Midwest and the Great Lakes!).
(202) 215-9486