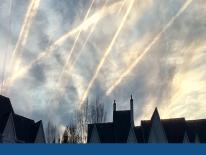 Environmental Justice is in the air. Beginning with the Environmental Film Festival, the city is awash in exhibitions, events, and programs that focus on climate, biodiversity, and social justice. CAH is harnessing the energy of the moment to provide you with an evolving list of activities to engage your senses and your spirit. Please join our mailing list if you haven't yet, to keep updated, and scroll down to access the full resource guide.
Environmental Justice is in the Air
ONGOING
Fragile Beauty, May 9 to July 11

Fragile Beauty features the artwork of 33 District-based artists focused on all aspects of environmental justice: biodiversity, landscape and climate change, ecological and human consumption, regional ecology, and political and geographic borders.

Nature Spirit Art, Thursday Evenings, May 26 to June 23 , 5 to 7:30 pm

Through immersive engagements with art, landscape and meditation, Nature|Spirit|Art helps participants cultivate personal resilience in the face of climate change.
Food for the People: Eating and Activism in Greater Washington | Now until September 17 | Anacostia Community Museum

Take a deep dive into the food issues of the nation's capital with this outdoor and indoor exhibition featuring artifacts, art installations, videos, and hands-on interactives.

The Wall/El Muro: What is a Border Wall? | Now until November 6 | National Building Museum

This exhibition examines the border wall from the perspective of architecture and design as well as its impact on the natural environment.

#ClimateFriday Podcast | Fridays at 9 am | WPFW 89.3 FM

Think 100% #ClimateFriday keeps you up to date on the climate movement in a rapidly changing world with breaking news and analysis of environmental issues, the climate crisis, and politics.
UPCOMING
Are you producing a program we should consider adding to this list? Please email us with more information at [email protected].