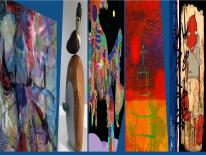 Art Bank Program
In support of local visual artists, District art galleries, and District art nonprofit organizations, CAH acquires fine art from metropolitan artists to grow the Art Bank Collection. Artwork in the collection is managed by CAH and loaned to District Government agencies for display in public areas and offices of government buildings. The Art Bank Collection, which started in 1986, has over 3,000 artworks.
CAH seeks grant applications from qualified artists and District art galleries or District nonprofit organizations representing metropolitan artists for the acquisition of works of original two- and three-dimensional artwork including, but not limited to:
Paintings
Drawings
Mixed media works
Prints
Photographs
Fabric arts
Ceramics
Sculptures
Guidelines for the Art Bank grant application can be found on the grants application page. For more information about the grant program, please contact Sarah Gordon at [email protected]
For information regarding placement of Art Bank artwork in a DC government office, please contact Ron Humbertson, Registrar, at [email protected]
The Art Bank Collection can be viewed online at http://dcarts.emuseum.com
Wilson Building Art Collection
"The HeArt of DC"
Located in the John A. Wilson Building, 1350 Pennsylvania Ave, NW.
This is a unique collection that presents original works of art outside traditional venues of museums and galleries. More than 200 pieces representing 115 metropolitan artists at the time of acquisition are on display in the Wilson Building hallways. Through this collection, residents and visitors have increased access to art, extending our cultural institutions' reach, and providing artists with opportunities to expand their artistic practice and audience. The collection at the John A. Wilson Building is open to the public.
The collection, now in its 15th year started with an initial acquisition in 2006 of 153 works representing 100 metro artists. By 2008 more works were acquired bringing the total to more than 200 pieces. The collection showcases the extent and depth of our local visual arts talent. Over 10 percent of the artists were born in the District, and most have lived here for over 20 years
For more information, please contact Sarah Gordon [email protected]
The HeArt of DC Collection can be viewed online at http://dcarts.emuseum.com
_________________
Top Banner: Art Bank Collection images, from left: Patricia Gerkin, Too Young for the Blues, 1999, Mixed media on paper, 20 × 26 in. | Christopher Romer, Passing Through, 2009, Wood, paint and hardware, 24 × 13 × 12 in. | Martin Percy, 22 Steps tp Sunrise, 2003, Archival Pigment Print, 29 1/2 x 21 1/2 in. | Lynn Putney, So Far (Oasis), 2007, Casein on panel, 12 × 12 in. | Kelly Towles, Return to Sender, 2003, Archival pigment print, 29 1/2 × 21 1/2 in.