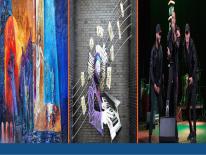 CAH seeks grant review panelists to perform evaluations of applications submitted to the agency for funding consideration throughout the year. Panelists are integral to the grantmaking process, providing a critical review, comments, and scores of all applications to a particular grant program. Their reviews and scores determine the ranking of applications within a grant cohort, which in turn become the basis on which funding decisions are made.  
Residents of the District of Columbia metropolitan area are encouraged to apply to serve as a panelist.
Selected panelists should have expertise through involvement in the arts and humanities (i.e. artists, arts administrators, arts educators, gallery professionals, curators, art critics, etc.). CAH seeks panel diversity in all forms: age, race, gender, disabilities, sexual orientation, artistic discipline, location, etc.
Individuals selected to serve on a review panel will have 3 to 4 weeks to review a maximum of 25 to 30 applications. CAH estimates that pre-panel review of applications takes approximately 20-30 hours before the day of the panel. Review panel meetings currently take place virtually via video conference software unless otherwise noted.
Panelists are appointed to one panel per year for a maximum of three consecutive years.  Panelists will be issued a $250 gift card.

Grant panelists will be responsible for the following tasks: 
Review all applications, work samples, and evaluations thoroughly prior to attending the panel meeting. 

Make objective assessments based on funding policies, grant guidelines, and application evaluation criteria. 

Make recommendations that are not self-serving and free of bias.
CAH maintains a database to help identify and select panelists. Panelist applicant information is used only for statistical and diversity inclusion purposes and is not shared with any third parties. Inclusion in this database does not guarantee selection for panel service.
You can also download a fillable PDF version of the form here.
_____________
Top banner: From left; Hubert Jackson, Family Emerging, 2014, Acrylic and mixed media on panel, 34 1/2 x 48 1/2 in., Art Bank Collection.  |  Zachary Oxman, Symphony in DC Major, 2015, Stainless steel, aluminum, automotive paint, 16 × 4 ft., Public Art Collection. | Jason Cerda at Labor Day Weekend Music Festival, 2018, Imagine Photography.