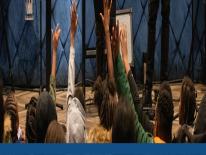 OVERVIEW
The Arts or Humanities Education Project (AHEP) offers support to qualified nonprofit organizations. These organizations are in the arts, humanities, arts education, and service sectors. The grant supports delivering exemplary programs in arts and/or humanities education. These programs target students in grades pre-K to 12 and older adults ages 50 and up. Eligible programs can also assist teachers, educational staff, and teaching artists of Public Schools and Public Charter Schools in DC.
AHEP Request for Applications
The FY 2024 AHEP RFA closed on Friday, July 14, 2023.
The FY 2025 AHEP RFA will be released in the spring/summer of 2024.