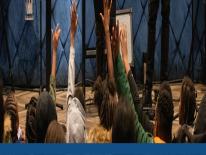 OVERVIEW
The Arts or Humanities Education Project (AHEP) offers support to qualified non-profit arts, humanities, arts education, and service organizations to deliver exemplary programs in arts and/or humanities education to students in grades pre-K to 12, older adults ages 50 and up, and to teachers, educational staff and teaching artists of DC Public Schools (DCPS) and DC Public Charter Schools (DCPCS).
Grants are competitive and applications are organized for review in cohorts based on the following qualifying project categories: (1) In-School Projects; (2) Out-of-School-Time Projects; (3) Professional Development Projects; (4) Older Adult Education; or (5) Arts Partners.
GRANT PROGRAM GOALS
By making its AHEP grant awards, CAH endeavors to meet the following goals;
Provide access to high-quality arts and humanities experiences that work to advance student academic achievement in the District of Columbia;
Strengthen the value of an arts and humanities education as a critical component of a student's broader education; and
Support activities that are consistent with local and national learning standards for arts and humanities education, including the current state standards in non-arts content areas, where appropriate.
FY24 Submission Deadline: TBA in Spring 2023