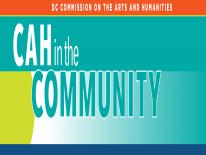 CAH in the Community
Developing Your Grant Application: Elements, Components and Mandatory Support Materials
Thursday, February 25, 2021
1:30 - 2:30 pm ET via Webex
---
Past Workshops
The District's Art Bank Collection: A Visual History
Thursday, February 4, 2021
Noon - 1 pm ET via Webex
Full Recorded Coverage Available Here
The District of Columbia's fine art collection dates back to 1986 and includes nearly 3,000 artworks. These works are on display in government buildings across the District. Learn about the development of the collection—including pieces by prominent artists related to the Washington Color School and the Harlem Renaissance—and discover the range of unique and remarkable works by our District artists.
The event will be led by CAH staff members Sarah Gordon, Curator, and vEnessa Acham, Public Art Program Specialist.
This online event is free and open to the public.