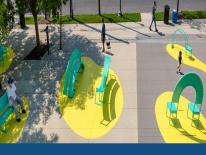 The Business of the Arts program aims to provide knowledge and skills through resources and workshops. It has focused on fundraising and development, marketing and public relations, as well as legal concerns and entrepreneurship. Free workshops and seminars are led by accomplished professionals and subject matter experts.
Unless otherwise noted, workshop facilitators are independent professionals, not employees or affiliates of CAH or the District of Columbia government. The views expressed are their own and not necessarily those of CAH or the District of Columbia government.
Presentations
Upcoming Workshops
__________________________
*There are currently no future workshops anticipated at this time.
For additional inquiries, please send an email to [email protected].
Past Workshop Recordings*
*Please note that information and best practices shared in the recordings below may be dated. Viewers are asked to exercise their judgment as to how applicable any recording is to the current day.
____________________
Top banner:
Bruce Willen with Neighborhood Design Center + Tim Scofield Studios, Chairs, 2020.
CAH Civic Commission, Playable Art In partnership with DC Office of Planning. This project was through an Art Place America Grant, and the DC Public Library. Anacostia Neighborhood Library, 1800 Good Hope Road SE.