Sahel's multilingual lead vocalists and creator, Jean-Francis Varre was born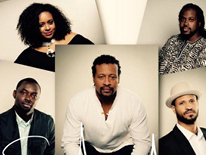 to Senegalese and Cape Verdean immigrants in Washington D.C. He began singing at 13 years-old, at first in English, and later in Spanish and the languages of his heritage - French, Wolof, and Portuguese. A self-taught musician, he plays bass, guitar and percussion. Jean-Francis has toured with British soul icon Omar and Grammy nominated salsa orchestra Gonzalo Grau y la Clave Secreta. He has performed with local rock groups Sitali and Lucy Brown, and at various Smithsonian and DC Commission on the Arts and Humanities events. Jean-Francis is joined by drummer Malick 'Papa' Diouf, bassist Stewart Bernard, vocalist (and sister) Aline Varre, percussionists Malari Moore and Jabari Exum, and guitarist Dokun Oke to form a multicultural musical team worthy of the name Sahel. The unit has built a reputation of keeping audiences dancing while seamlessly varying styles and jumping from one culture to the next. Sahel, like the legendary land that is its namesake, is a band that interprets musical genres influenced by African culture around the globe.
Benjamin Gates, Founder and CEO of Asteroid Titanium Productions and Entertainment
provides live musical performances, audio engineering, produces and creates through composing and arranging his own and other musicians' musical endeavors. Benjamin began playing the acoustic cello as a young child and continued to train in different orchestral programs throughout grade, middle, high school and college. He is classically trained; plays most genres to include hip-hop, jazz, classical, gospel, rap, go-go and top forty songs; and he creates music into a bluesy, jazzy sounding songs.
Through Mr. Gates' organizations, annually he provides a gift package of hats, scarves, gloves and socks to homeless people (people in need) in the Washington, DC Metropolitan Area. He also plays around Washington, because of his music and of his dedication to play music for everyone, he has been called, "The Musician for the People".