Pablo Antonio y La Firma, a disciplined musical concept with sights on the future, was founded in late 1998 in Washington, DC. Since its inception, it has characterized itself as a solid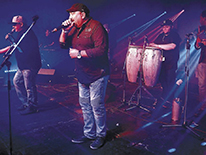 based band, with an original style and in tune with the changing times of modern day music. Popular and well accepted in every environment due to the humbleness of their musicians as well as the versatility of their work. They play Salsa, Merengue and Cumbia.
There is no doubt Pablo Antonio y La Firma continues to be the most stable, most requested and most respected band in the Tropical Genre in the entire Washington, DC, metropolitan area. The experience acquired in the multiple performances, both local and national, at quality events such as Calle Ocho in Miami, Latino Festival in North Carolina, just to name a few, and the times that they have supported well known Salsa singers and have shared the stage with other bands of international acclaim, places them in a unique seat of honor among the recent history of musical bands in Washington, DC.
Sitali Siyolwe (Kush) follows in the tradition of visionaries whose music is at once explosive, provocative, emotional, and soaring under its own banner. It would be easy to dub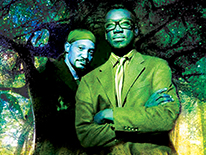 his work "folk rock" – and him a "singer-songwriter" – for the sake of the argument, but with a repertoire of sublime tracks that tinker with everything from Delta blues to country to funk to punk rock, it wouldn't do him justice. A mighty lyricist and seasoned performer, he fiercely resides in a category all his own, evoking the legends that rocked, crooned, and strummed their way into his inimitable aesthetic.
After completing his second album, Sitali took some time away from production and spent a year and a half touring with DC-based DJ collective Thievery Corporation, performing to large crowds across the U.S. The tour introduced Sitali to huge audiences, as it made stops at such festivals as Bonnaroo, Lollapalooza, Outside Lands, Coachella, and many others.
Sitali went back into the studio in 2015-2016, again collaborating with Frank Marchand, for his latest album, Golden One. This project is a soulful and full-bodied bomb of tones and genres, featuring a horn section; string section Machines on Vacation (fronted by Ethan Balis); and the talents of Dr. Huda Asfour, master of the Palestinian oud and kanoun. Thievery Corporation engineer Giamma Conti also lent his expertise to the project, as did Juju House, who appears on drums. The album was released in 2016.
AZTEC SUN, a band rooted in the power of communal experiences, has earned their rank as one of the elite Funk bands in the nation's capital. If a dance party is what you're looking for, look no further.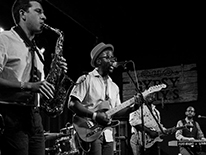 The band has consistently captivated audiences along the East Coast using an up-beat and infectious groove that one could label as a retro blend of 70s funk and soul music, with heavy undertones of jazz, blues, afro-funk, and pop. To keep things simple, the band calls it Funk with Soul.
Emerging onto the scene in 2013, it didn't take long for AZTEC SUN to grab the attention of the city's musical aficionados. From house party to the Howard Theatre, the band is committed to making music that connects them deeper to the world around them. Their commitment to the music was rewarded in 2015 after winning the Battle of the Bands in Vienna, VA at Jammin Java and again in 2016 as the band was voted Washington DC's Best Local Original Band of 2016 by the Washington City Paper.