Having graced some of DC's biggest stages: Strathmore, Blues Alley, & Merriweather Post Pavilion, Flo Anito embarked on her first European tour in 2014, performing solo in the UK, Switzerland,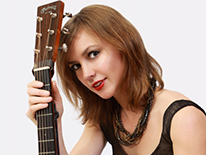 Germany and Spain! She has a quirky, cleversongwriter with a great big voice, that is in turn, sweet, sultry, powerful, and emotive; Flo's stage presence is undeniable. Classically trained in Voice, Piano, and Cello, raised on the stages of summer stock musical theatre, and studying Music under Anthony Braxton and Alvin Lucier at Wesleyan University, Flo's sound is a rare hybrid. Flo is a Grand Prize winner on Ourstage, with multiple Wammy nominations for Best Pop/Rock Vocalist. Come see why Flo Anito is wowing audiences internationally!
Margot MacDonald Featured on NP's Tiny Desk Concerts, Voice of America, and TEDx; songwriter, vocalist, and live looper, Margot MacDonald embodies a one-woman band.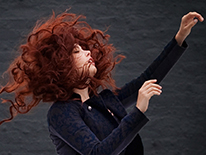 A long-time guitarist and pianist, Margot's instrumentation has expanded to include unconventional vocal accompaniments created and looped live on the spot through the use of a loop pedal. Haunting, powerful, and indie-pop driven, Margot's performances make you forget the technology she hones, as you lose yourself in layers of lush vocals and striking melodies.
Margot is Washington City Paper's "Best Singer" of 2014, a three-time winner of the Washington Area Music Association Artist of the Year award, a recipient of DC's Power 30 Under 30 award, and an Artist-In-Residence alumna at Iceland's Saga Festival and the Music Center at Strathmore. Her latest solo album, Canvas, has gained critical acclaim, and her latest collaborative effort with The El Masouris sold out of hard copies the day of its 2017 release. Now 25, Margot's in the midst of forming new works from her northwest home in Washington, DC.
Laura Tsaggaris writes and performs songs on acoustic and electric guitar, piano, and ukulele. Most recently, she completed her fifth CD a live record funded by fan contributions and pre.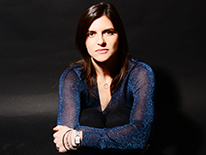 Entitled Live At The Atlas, her latest work draws inspiration from some of the great live albums that shaped her as a songwriter (Nirvana: Unplugged, Ani Difranco: Living in Clip, Erykah Badu: Live Fleetwood Mac: The Dance. The focus is acoustic, featuring one new song and fresh arrangements of 16 others from her previous full‐length albums.
Laura Tsaggaris recorded Live At The Atlas before a live audience at The Atlas Performing Arts Center in the historic H Street Corridor of northeast Washington, D.C. The album was released at the 9:30 Club and is now available on iTunes. Laura Tsaggaris' most recent studio album, EVERYMAN, was produced by Jamie Candiloro (REM, Willie Nelson) and invites comparisons to Bonnie Raitt and Sheryl Crow. It features backing vocals from Ryan Adams, guitar work from Doug Pettibone (Lucinda Williams, Ray LaMontagne) and pedal steel from Marty Rifkin (Bruce Springsteen, Tom Petty).