Fast Eddie & The Slowpokes are guaranteed to get you up on your feet!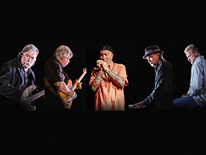 The Slowpokes playlist is inspired by classic blues material from Chicago to West Coast Swing, Motown to Muscle Shoals, and all the rock n' roll in between. Fast Eddie & The Slowpokes have performed throughout the DC /Maryland/Virginia region, from Senate Caucus rooms to festivals to roadhouses. They have shared the stage with Victor Wainwright (2016 BMA Entertainer of the Year), The Nighthawks, The Andy T Band, and Phil Pemberton of Roomful of Blues. They won the 2016 and 2012 DC Blues Society Battle of the Bands and represented the DC Blues Society at the 2017 and 2013 The International Blues Challenge in Memphis! In 2017, they were Semi-Finalists at the International Blues Challenge.
Ashley "Epiphany" Hodges is a spoken-word poet and youth advocate
putting in philanthropic or poetic work. Using her words to impact, inspire, and ignite passion in her listeners, Epiphany reminds her audience that poetry is more than just words on a page. She believes poetry is a tool that helps create positive vibe frequencies, exposes beauty in the ugliest of situations, and speaks for those who feel like they are voiceless. Struggling with being able to express emotions through verbal conversations is something Epiphany knows all too well. It was the battle with mental and emotional health that drove her to embrace poetry at a young age. Eventually, becoming an outlet to express safely, all the emotions she ever felt.
For Epiphany, the enlightenment came as a young adult in 2006, on the campus of Johnson C. Smith University where she was given the stage name "Epiphany." By remaining true to herself in her art, she has graced many stages, including The Lincoln Theater and The Kennedy Center. Everything about her is empowering, emancipating, organically crafted through natural delivery.