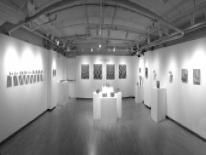 2018 Emerging Artists
Application Deadline: December 3, 2017
Exhibition Dates: March 31 – May 20, 2018
Jury Panel: Ksenia Grishkova, Blair Murphy, and Jack Rasmussen
Call Summary: Target Gallery invites regional emerging artists to submit work for a new group exhibition This exhibition will feature up to 5 regional emerging artists spotlighting new talent and the up-and-coming artistic innovators of the D.C., Maryland, Virginia area. The selected artists will receive a $500 stipend for the exhibition.
Qualifications: This exhibition is for regional emerging artists. We will accept submissions from artists that live within D.C., Maryland, or Virginia and have not had a solo exhibition at a professional gallery or art space (BFA or MFA exhibitions do not apply).
Link for more info and to apply: http://torpedofactory.org/artopps