The Bohemian Caverns Jazz Orchestra is a 17-piece big band founded by baritone saxophonist Brad Linde and Bohemian Caverns owner Omrao Brown. Co-directed by Linde and Joe Herrera, the band debuted on April 19, 2010 and performed nearly every Monday evening until the club closed in March 2016. The BCJO presents a variety of big band literature from iconic composers Duke Ellington, Count Basie, Billy Strayhorn, Thad Jones, OliverNelson, Maria Schneider and Darcy James Argue. Original compositions and arrangements by band members, guest artists, and commissioned composers embrace, challenge, and expand the tradition of big band repertoire.
Born into a family of musicians in the south of Brazil, Rose Moraes began her studies with many prestigious institutes in Brazil such as: The University of Maringa and the Musical Conservatory of Curitiba.
She also studied and performed with the Musical Conservatory of Maringa (Luz Amor), and graduated from the University of Science and language in Parana with a bachelor's in Pedagogia. Moraes recorded her first CD entitled Brejeira (Breh-Gera) which is a Brazilian word to describe someone or something that is simple and natural. The launching of this album inspired Moraes to produce a show entitled enCanto Do Poema (the enchantment of poetry), where she combined famous American/Brazilian/Latin and other international poems with the music on her album. She also recorded a CD special where she puts together songs alive from Brazil's show and recordings made in the US with great musicians such as Tito Freitas, Leonardo Lucini, Wayne Wilentz. The success of this show led to touring many cities in Brazil such as: Natal- Casa da Ribeira, Recife-Marco Zero, Sao Paulo - Crowne Plaza and Curitiba-Teatro Paiol. She also brought her show to the States participating in the Sounds of Brazil radio program on WPFW in Washington, DC to promote her album and show.
Nobody knows trumpet quite like Harold Little. That's because the DC area musician doesn't see it as just an instrument – it's literally part of who he is, an extension of his personality.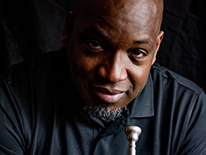 Anyone who's seen him play will tell you that he's got a fingertip feel for embouchure and valves. So it's no surprise that he's played with jazz legends like Chuck Brown, Butch Warren, Buck Hill, Eddie Gladden and Calvin Jones. Now with his new band and album that fuses jazz, funk and R&B, Harold is here to show that a Little goes a long way. Little's new record may be more cosmopolitan than before. It shows off his skills as a trumpeter, and throws down a groove that'll make you bob your head and pat your feet. And that Harold Little beat isn't one to underestimate. "When people hear my music I want them to say damn! Who is that? I want them to remember when, where, and what they were doing when they heard it. I want them to feel the energy, the love and passion, the heat! I want my music to enter their soul."