Classically trained in voice, piano, and 'cello, Flo Anito began her singer/songwriter career at age 16 when she got her hands on her first guitar.
Already rewarded for her musicality with All-State recognition and roles in Summer-stock theatre, songwriting came naturally to this young talent who has quickly proven herself a prolific writer of thought provoking jazzy pop songs in the vein of Fiona Apple, Regina Spektor, and Nellie McKay. Having graced some of DC's biggest stages: Strathmore, Wolf Trap, Merriweather Post Pavilion, the Birchmere, Blues Alley, the Fillmore, Hamilton Live, and Bethesda Blues & Jazz - Flo Anito recently embarked on her first European tour, performing solo in the UK, Switzerland, Germany and Spain! A quirky, clever songwriter with a great big voice, that is in turn, sweet, sultry, powerful, and emotive, Flo's stage presence is undeniable and her voice, a rare hybrid. A Grand Prize winner on Ourstage, with multiple Wammy nominations for Best Pop/Rock Vocalist, come see why Flo Anito is wowing audiences internationally!
Seth Kibel is one of the Mid-Atlantic's premier woodwind specialists, working with some of the best bands in jazz,swing,and more.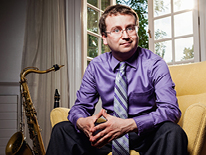 Wowing audiences on saxophone, clarinet, and flute,Seth has made a name for himself in the Washington/Baltimore region, and beyond. He is the featured performer with The Alexandria Kleztet, Bay Jazz Project, Music Pilgrim Trio, The Natty Beaux, and more. Winner of 28 Washington Area Music Awards (Wammies), including Best World Music Instrumentalist (2003-11) and Best Jazz Instrumentalist (2005, 2007-8, 2011-14). His most recent recording, Seth Kibel Presents: Songs of Snark & Despair, was released in 2017 on the Azalea City Recordings record label. This album is a collections of songs, with music and lyrics by Seth, written in direct response to the 2016 Presidential election and the events that followed, and features an all-star cast of vocalists and instrumentalists from throughout the Mid-Atlantic region.
Cha Cha and the Suspectz, a hip-hop group is comprised of performance artist a.k.a. Cha Cha (Chaseedaw Giles), keys player Stephanie Kaiser,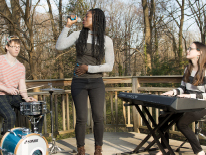 and drummer Jason Hayes. Stephanie is a classically trained multi-instrumentalist versed in a variety of styles of music and improvisation. Chaseedaw is an actress and model. She fused hip-hop with theater when she performed her original songs "Bougie" and "Hollywood Dreams" in two immersive theater productions put on by TBD Immersive.
Brave Like Us is a duo team of talented musicians from different musical backgrounds.
Laura first began as a classically trained violinist joining the Frederick Symphony and the Salisbury Symphony Orchestra in the early 2000's. She later joined a local bluegrass band where she honed her skills as a fiddle player and vocalist. She is self taught on the guitar and has written music most of her life. During a fateful meeting with bass player Jay Brazao a new chapter was written.
Jay is a self taught bassist. Beginning on guitar he later switched to bass in order to fill a need for his young high school band and the rest was history. He has played with many groups around the DC area and had notable success with rock group, Rome In A Day. Jay is known for building and looping beats and rhythms while playing beautifully melodic tunes on his acoustic bass. Check us out at BraveLikeUsMusic.com!