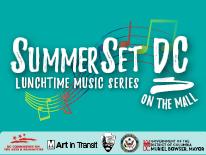 SummerSet DC 2018
Lunchtime Music Series on the Mall
SummerSet DC is a lunchtime music series presented on the National Mall by the DC Commission on the Arts and Humanities (CAH) and the Washington Metro Area Transit Authority (WMATA), in cooperation with the Office of Congresswoman Eleanor Holmes Norton and the National Park Service (NPS). The series brings free musical performances by area musicians to the National Mall each Tuesday and Thursday from 12:00PM – 2:00PM. SummerSet DC provides a unique opportunity to showcase our region's variety of musical talent.
Free and open to the public. More details coming soon.
Interested in auditioning for SummerSetDC 2018?
Visit this page to learn more: