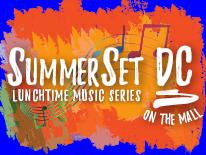 SummerSet DC 2017
Lunchtime Music Series on the Mall
Tuesdays and Thursdays
June 29 - July 25, 2017
12 - 2 pm | The National Mall
Free and open to the public. Reservations are not required.
7th Street and Jefferson Street, SW, Washington, DC, in front of the National Air and Space Museum of the Smithsonian Institution and food kiosk.
Live performances by local artists Tuesdays and Thursdays, June 29 - July 25, 2017. Presented by the DC Commission on the Arts and Humanities in partnership with Washington Metropolitan Area Transit Authority, the Office of Congresswoman Eleanor Holmes Norton and the National Park Service.

Bring your lunch and a lawn chair or blanket and enjoy this midday summertime entertainment series!
Performance Schedule
(RSVP) June 29: Jeff Young, Run Come See
(RSVP) July 11: Eli Lev, Oppo (CANCELLED)
(RSVP) July 13: Heather Mae, Sara Curtin (CANCELLED)
(RSVP) July 18: Fast Eddie and The Slowpokes, Epiphany
(RSVP) July 20: Sahel, Benjamin Gates (CANCELLED)
(RSVP) July 25: Words Beats & Life, Tosin Aribisala
Artists and schedule subject to change