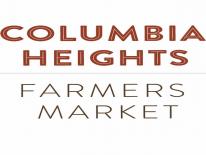 Title of Artist Call: Columbia Heights Farmers Art Market
Organization: Columbia Heights Farmers Market
Call Summary:
DC artists are invited to submit their small-scale and affordable artwork to be featured and sold at the Columbia Heights Farmers Art Market this spring!
We hope to make the farmers market a more interdisciplinary place, combining our love for art, food, and environmental sustainability. Artists who don't normally get a chance to exhibit and sell their work will have the opportunity to show their work in a casual and friendly community environment.
It is absolutely free to submit your work and have it put up at the exhibition and you keep what you want your work sold for! At the market, we will mark up your piece to the next nearest 0 or 5 to be donated to the Columbia Heights Farmers Market Bonus Bucks Program. We'll be piloting our pop-up art exhibitions starting on Saturday, April 22nd, 2017 running for three Saturdays until May 6th. The art market will be open 9-1 along with the regular farmers market. It is located at 1400 Park Rd NW, Washington DC, 20010.
This project is made possible by Eagle Endowment at American University and the Columbia Heights Farmers Market run by Community Foodworks.
Eligibility:
-Artists must be residents of DC
-Work must two dimensional. This can include prints, drawings, paintings, photographs, light canvases/boards, etc. Work can still be framed -Work must not exceed size of 15 x 15 inches including frame -Work can be priced at anything $45 or below -Artists can submit no more than three pieces at a time -Applications must be sent in by Friday, April 10th, 2017
How to Submit:
-Fill out the short application here
-Send in images of your work to [email protected] with "Art Market Submission Your Last Name" as the subject line -Application Deadline: Friday, April 10th, 2017
For any questions or comments, please don't hesitate to email Maya Simkin, Program Director, at [email protected]

Who Can Apply: Open to Everyone
Discipline: Visual Arts
Submission Deadline: April 10, 2017
For more information, please contact Maya L Simkin at [email protected] or visit https://goo.gl/Y1Lpql