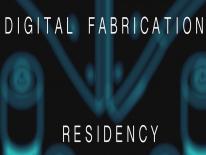 Title of Call: 3D Fabrication Studio and Textile Technology Studio Residency Program
Organization: Digital Fabrication Residency
Call Summary: Build a foundation of knowledge of how digital fabrication technology is aiding artists and designers to experiment and create in new ways.
Digital Fabrication Residency is constantly growing to include new resources and workflows valuable to contemporary artists and designers exploring digital fabrication technology in their studio practice. DFR covers a wide range of software programs that compliment creative process with experience seeing the ideas come off the machines and into your hands. With two main studios, a 3D Fabrication Studio and Textile Studio, residents can experiment their ideas through a range of machine processes from CNC routing, laser cutting and engraving, 3D printing in resin and ABS to DFR's 12 foot automated long arm sewing machine, 10 needle digital embroidery machine and a host of other machines and processes.
We have specially prepared our 2017 Programing to include two newly adapted residency programs onsite in our new studio facilities and one upcoming online OnRamp Workshop:
3 DAY ONSITE PROGRAM
For 3 days onsite the resident learns and gain hands-on experience with laser cutting, cnc routing, resin and FDM 3D printing, digital embroidery, automated long arm sewing and 3D scanning. Applications for the 3 Day onsite residency program must include a detailed project proposal that outlines what the resident plans to work on while onsite. Residents are responsible for arranging their own accommodations, travel expenses, meals and alternative materials if projects require materials outside of those provided.
DFR works with residents in an online meetings prior to their onsite visit to figure out project needs and make sure residents can arrive and hit the ground running with their ideas. The project-based goals make the time onsite productive and rewarding. The resident can utilize the 3D Fabrication Studio and Textile studio working directly with DFR staff to produce a variety a samples based on project-based goals. There are basic materials supplied and residents can send materials to be ready for their onsite visit. Residents can work extensively learning beside the DFR team during facility hours. After 3 days onsite the resident can add additional time at DFR studios for further idea development. Please see application page for details on residency participation fees. Applicants must recommend their preferred dates on their application. There are no application fees to apply to our programs.

HYBRID PROGRAM
This competitive program offers artists and designers the opportunity to spend more extensive time at DFR 3D Fabrication Studio and Textile Studio working to develop ideas and learn workflows specific to proposed project ideas and goals. Project proposals must specifically outline project goals and learning objectives. This program includes 6 scheduled days onsite for residents with rudimentary to advanced level experience with digital fabrication technology. This program is ideal for planning artworks for exhibitions and to better understand implementation of this technology for larger scale projects (i.e. museum, gallery, art fair and other professional art venues). Travel, lodging, food and project expenses for materials outside of those provided are the responsibility of the resident. Please see application page for Hybrid Program residency participation fees and more details. There are no application fees to apply to this program.

ONRAMP WORKSHOPS
Individuals can enroll directly in any of DFR online OnRAMP workshops. It is a convenient easy to understand format with helpful resource pdf's that provides an overview of digital fabrication technology. Each ONRAMP cycle includes 4 sessions scheduled on Tuesday and Thursdays at 12 PM EST. To register for the upcoming January 10th workshop cycle, visit: http://www.digitalfabricationresidency.com/digi-fab-onramp-program/


Digital Fabrication Residency studios are now located nearby the beautiful waterfront town of St. Michael's on the Eastern Shore of Maryland. In the heart of the Chesapeake, the area is a popular destination from Washington D.C. and three and a half hour drive from New York City.

Who Can Apply: Professional Artists
Discipline: Visual Arts
Submission Deadline: March 31, 2017
For more information, please contact Kari Lorenson at [email protected] or visit http://www.digitalfabricationresidency.com/