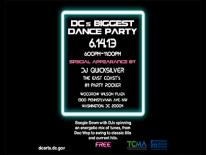 Last Date:
Details:
PULSE DC – SUMMER MUSIC SERIES
DC Commission on the Arts and Humanities presents PULSE DC, a free summer music concert series featuring performances by local, national and international artists. PULSE DC will kick off with DC's BIGGEST DANCE PARTY, Friday, June 14, 2013 from 6:00PM-11:00PM at the Woodrow Wilson Plaza.
DC's BIGGEST DANCE PARTY celebrates music of the generations from doowop to disco, Motown to pop rock, 90's hits to current chart toppers with special guest DJ's like the east coast party rocker DJ Quicksilver and more!