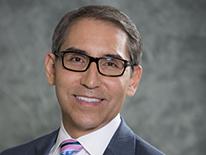 Executive Director, DC Commission on the Arts and Humanities
Arthur Espinoza Jr., Executive Director, is a resident of Ward 3 and a dedicated arts advocate. Prior to his appointment by Mayor Muriel Bowser, Espinoza was Managing Director of The Washington Ballet (TWB) where in 2010 he began his inaugural season with that internationally recognized ballet company. At TWB he produced numerous productions and world premieres, including the highly regarded ALICE in wonderland ballet and the company's first international tour to Turkey. Espinoza also managed a period of significant budget growth at TWB, an increase in the roster of resident company of dancers, and a $1.5M facility expansion project.
From 1999 to 2010, Espinoza served as General Manager of Colorado Ballet where he administered company and touring operations, grant writing, production management, national and international touring, marketing and communications, ticket and retail sales operations, and patron and donor relations. Espinoza was instrumental in negotiating multiple collective bargaining agreements at Colorado Ballet, including the company's original union agreement with the American Guild of Musical Artists (AGMA).
Espinoza was producer for more than seven seasons of an annual lecture series featuring high-profile individuals where he hosted and interviewed well-regarded personalities including former U.S. President Bill Clinton, Secretary Hillary Rodham Clinton, Dr. Maya Angelou, Dr. Jane Goodall, Sir Sidney Poitier, Liberian President Ellen Sirleaf Johnson and over 25 other prominent celebrities. As board chair of a non-profit tango arts organization and board member of other non-profit organizations, he has served many burgeoning and established arts institutions. He has managed a roster of professional artists, choreographers and theatrical designers.
Espinoza's executive management experience began in 1996 as the first Latino executive director of an arts institution in Fort Collins (Colorado) while at Canyon Concert Ballet. This followed his earlier work as theatre director, arts education program director and performer. He has directed, choreographed and co-directed numerous theatrical productions including The Fantasticks, Oliver!, Alice in Wonderland, 1940's Radio Hour, and Lonely Planet, the latter receiving an audience at a Colorado Governor's Award for Excellence in the Arts Gala.
Mr. Espinoza's expertise in arts administration, project and strategic planning, and labor relations has served numerous companies including positions with The Lincoln Center (Colorado), Denver Ballet Guild, Central City Opera, Fort Collins Children's Theatre, Opera Fort Collins, OpenStage Theatre and Company, Southern Colorado Repertory Theatre, Denver Performing Arts Center, Milwaukee Ballet, JAM Productions (Chicago) and many unique arts and cultural events and festivals. He has served as an adjudicator and reviewer for grant making agencies and foundations.
Having performed in the theatre since a young age, his earliest arts experiences were a product of arts engagement programs and thus, he is a unwavering supporter of arts education in schools and of engagement activities that support youth. Similarly, he maintains a strong interest in programs that support inclusion, diversity, equity and access in the arts.
Espinoza is a professional bilingual voiceover artist in radio, television, film, and new media and is a member of the Screen Actors Guild, American Federation of Television and Radio Artists (SAG-AFTRA).