Commission on the Arts and Humanities

Office Hours
Monday to Friday, 9 am to 5:30 pm
Connect With Us
200 I Street, SE, Washington, DC 20003
Phone: (202) 724-5613
Fax: (202) 727-4135
TTY: (202) 724-4493
Email:
cah@dc.gov





Agency Performance
Showtime at the Gateway DC
Image: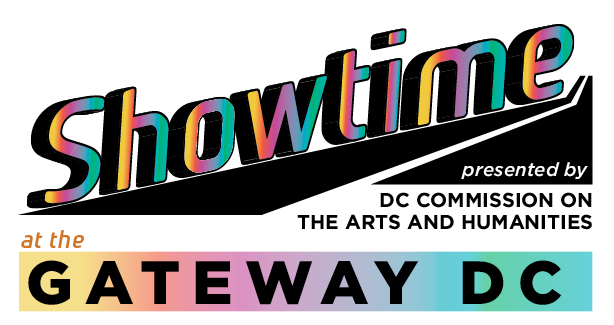 Image Link URL:
http://dcarts.dc.gov/page/showtime-gateway-pavilion
The DC Commission on the Arts and Humanities presents a FREE summer performance series.
Featured Content Items:
Experience Showtime at the Gateway DC
DC Commission on the Arts and Humanities Presents a FREE Summer Performance Series
The DC Commission on the Arts and Humanities is pleased to announce Showtime, a performance series through the summer of 2014, featuring a stellar line-up of local artists. Events will take place at the St. Elizabeth's Gateway Pavilion, located at 2700 Martin Luther King Jr. Avenue, SE. All are FREE and open to the public.
Showtime will kick off with a twilight concert by SynchroniCity and Black Alley Band on Friday, May 30 from 6-8 pm. SynchroniCity has created a unique sound that exuberantly blends classical string instrumentation "in sync" with melodious sounds of the flute along with African-based funky percussion. This blend has been taking audiences by storm and leaving them clamoring for more. Black Alley pushes the art of music to its rhythmic limits. Determined to create a unique musical elixir, Black Alley has taken the finest ingredients of funk, jazz, soul and rock to create their own genre-bending sound called "Soul Garage."

On June 27 from 6-8 pm, National Hand Dance Association takes the stage by storm. DC Hand Dance, also known as "Hand Dance," is a contemporary, swing-style, partner dance with roots in Lindy and Swing. It has over a 50-year history as a folk and traditional art form, which is indigenous to the Washington, DC area. Hand Dance is the "Official Dance of the Nation's Capital."
Three members of the Adinkra Group - Farafina Kan, Maimouna Youseff, and Spyda - will perform live on July 25 from 6-8 pm.
Farafina Kan is a professional West African Percussion Orchestra dedicated to maintaining the history and integrity of traditional African music. The group is a family comprised of young African-American artists reared in many of the dance companies who established the foundation for African dance in the United States. Continuing the legacy of the African American musical genius who have kept the world in beat for the past 400 years, Farafina Kan will often blend traditional music with reggae, blues, jazz, Hip-Hop and Go Go.

Maimouna "Mumu Fresh" Youssef is a seasoned Grammy nominated-singer, songwriter, producer and emcee. Youssef has rocked the stages of many renowned venues such as New York City's Legendary Carnegie Hall, Radio City Music Hall, The Kennedy Center, Carter Barron Amphitheater as well as international festivals and venues such as the legendary New Africa Shrine in Lagos, Nigeria. Mumu Fresh received her Grammy nomination with the Roots in 2007 for her contribution to their smash hit "Don't Feel Right."

Born in Barbados, now living in Washington, DC, Spyda the dj is well respected by others DJ's, club owners, promoters and partygoers alike for his ability to seamlessly move from record to record and always play the right tunes at the right time. Although his heart is with Caribbean music, in one set, Spyda will take audiences around the world with Reggae, Soca, Latin, African High Life, Hip-Hop, R & B and House.
Showtime at the Gateway DC Schedule
SynchroniCity and Black Alley Band - May 30th, 6-8pm
National Hand Dance Association - June 27th, 6-8pm
The Adinkra Group (Farafina Kan, Maimouna Youseff, Spyda) - July 25th, 6-8pm
Location
2700 Martin Luther King Avenue SE, Washington, DC 20032
St Elizabeths East Campus
MLK Gate Number 4 | DHS Gate Number 3
Nearest Metro: Congress Heights on the Green Line
Bus Lines: A2, A4, A6, A7, A8, A42, A46, A48, W2, W3
Capital Bikeshare Station: Congress Heights Metro
External Link URL:
http://dcarts.dc.gov/page/showtime-gateway-pavilion